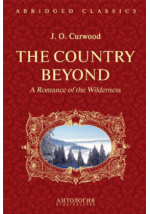 The Country Beyond. A Romance of the Wilderness = В дебрях Севера. Романтическая история сурового края : книга для чтения на английском языке: художественная литература
Объем: 192 стр.
Адаптация, сокращение и словарь: Загородняя И.Б.
ISBN: 978-5-94962-279-7
УДК: 821.111
ББК: 84(7Сое)5-44=432.1
Постраничный просмотр для данной книги Вам недоступен.
Главный герой – мужественный и честный человек, Роджер Маккей, – встав на защиту индейцев, был вынужден нарушить закон. Скрываясь от полиции Канады, он поселяется в глухом уголке страны, где встречает свою любовь. Однако преследования стражей порядка
заставляют влюблённых расстаться. Маккей и его верный пёс Питер отправляются в долгое, полное опасностей путешествие на Север, навстречу своей судьбе…
Текст сокращён и адаптирован. Уровень Intermediate.
Дополнительные материалы к этой книге
Мультимедийные приложения к книге
Рекомендации материалов по теме: нет