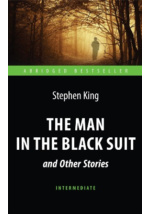 The Man in the Black Suit and Other Stories = «Человек в чёрном костюме» и другие рассказы : книга для чтения на английском языке: художественная литература
Объем: 160 стр.
Адаптация, сокращение и словарь: Шитова А.В.
ISBN: 978-5-94962-280-3
УДК: 821.111
ББК: 84(7Сое)6-44=432.1
Постраничный просмотр для данной книги Вам недоступен.
В книгу вошли десять замечательных рассказов автора, отобранных из сборников разных лет. Сюжеты большинства из них легли в основу художественных фильмов и телевизионных постановок.
Текст сокращён и адаптирован. Уровень Intermediate.
Дополнительные материалы к этой книге
Мультимедийные приложения к книге
Рекомендации материалов по теме: нет